Vignelli: Minimal Tumblr theme
Tumblr is a great microblogging platform for folks who want to get up and running with minimum hassle. The feature set is constantly improving and there are already a number of good themes available. However, when I was searching for a minimalist-style theme, I couldn't find one I was particularly happy with.
I decided to create to my own free minimal Tumblr theme, inspired loosely by the great Modernist Massimo Vignelli, and the style of my own blog.
Note: Vignelli is a completely free theme, and as such I don't offer technical support. The official custom Tumblr theme documentation contains plenty of guidance.
Install Vignelli Tumblr theme v1.3 →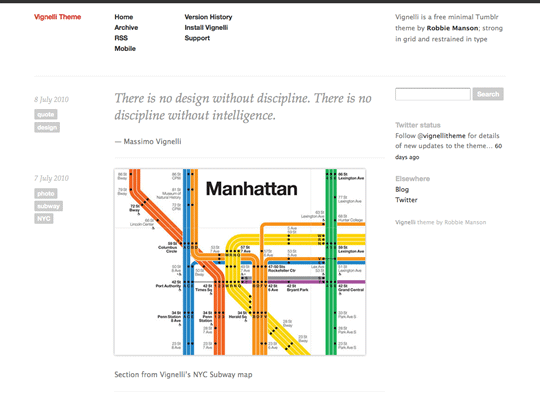 Colour customisation
Colours for the following elements are completely customisable once the theme has been installed:
Top border colour
Site title colour
Link colour
Link hover colour
Button colour
Button hover colour
Post title colour
Post title link colour
To customise these colours, click 'Customize' from the site menu in your Dashboard, then 'Appearance' from the menu bar.
Twitter status and social links
To show your latest Twitter status and links to other accounts you have on the web, simply add your own usernames under the 'Appearance' menu on your Tumblr 'Customization' screen.